WHY IS CRAWL SPACE ENCAPSULATION IMPORTANT?
Crawl spaces are shallow, unfinished spaces beneath the first floor or under the roof of a structure, which provide access to plumbing or wiring.  It is important to perform crawl space encapsulation and properly maintain crawl space areas because doing so:
Prevents damage from mold, moisture, and termites
Prevents moisture and humidity from causing structural issues
Allows dark and dirty areas to be converted to clean and useable storage space and
Discourages the growth of allergens and indoor air pollutants in your home.
CRAWL SPACE ENCAPSULATION SOLUTIONS
Weinstein Construction's experts can help you keep moisture away from your home's crawl spaces, safeguarding the value of your property and helping to make your home safe and healthy for all who live there. We are experts at crawl space insulation and moisture barrier solutions.
ARE THERE ADDITIONAL WAYS TO PREVENT CRAWL SPACE ISSUES?
Another frequent issue is faulty grading of areas under the home, as well as a lack of rain gutters.  When the soil is not graded properly, and when rain gutters are not present, moisture issues occur because rain water enters the crawl space.  Unfortunately, repeated wetting of building materials day-after-day creates a "perfect storm" for an environment that richly supports mold growth, termites, and structural harm due to wood rot.  All of this is damaging to life and property.
Fortunately, Weinstein Construction's experts can help mitigate damage to your home by adding crawl space vapor barriers that are paired with dehumidifiers or crawl space fans.  Various options are available, including:
Proper grading around the home, which directs moisture away from the structure
Installing, repairing, or cleaning out gutters and downspouts
Adding downspout extensions and exit lines to direct water away from the home
Adding interior or exterior waterproofing and
Installing crawl house ventilation.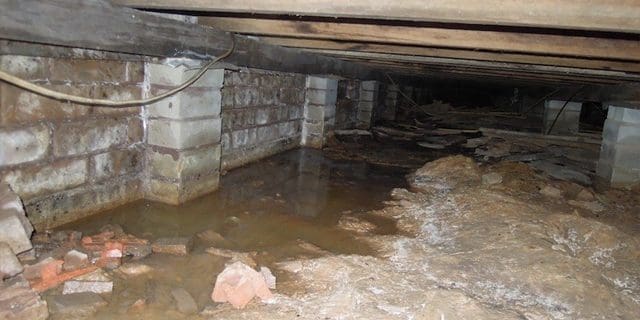 Schedule A Free Inspection
"*" indicates required fields
HUMIDITY + MOISTURE = STRUCTURAL DAMAGE
Moisture can damage homes in many ways.  For example, mold, wood rot, or dead pests, can cause cause foundation structural issues and pose tremendous health hazards!  At the very least, such damage can lead to sticky windows, buckling hardwood floors, bent or rotting wood framing, rusty fabricated metal parts, and higher energy bills.
But there are solutions that Weinstein Construction's experts can use to solve such problems!  Our crawl space "encapsulation" (sealing) methods insulate the areas under your home from outside elements. We literally wrap such areas with a layer of ultra-durable polyethylene liner which seals and protects from moisture and assault by various critters.  In doing so, vents and port doors are also often covered up to offer full insulation.
The costs to remove unhealthy mold from a home or repair structural damage from moisture can be exponentially higher than simply using an encapsulation method for protection.  Why live with mold in crawl spaces?  In this case, "an ounce of prevention is worth a pound of cure!"
Weinstein Construction's retrofitting experts can also take care of your home's drainage problems, which can happen when water does not properly drain away from crawl spaces.  Ensuring proper drainage is very important because unwanted moisture can damage your home's crawl space foundation by literally shifting (and potentially cracking) it through the forces of soil expansion and shrinkage.
We have been designing and installing permanent and effective crawl space systems since 1977 and can tailor our services to your home's particular size and needs!  Call us today for a free, no-obligation consultation where we can explain how crawl space encapsulation works to safeguard the investment you have made in your home!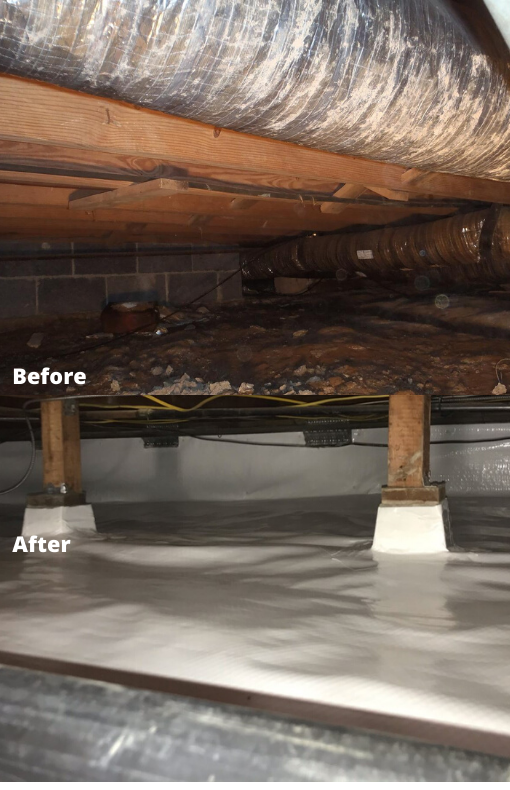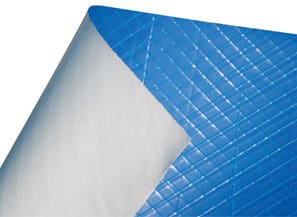 VAPOR BARRIER
To eradicate damaging water vapor from your crawl space, Weinstein Construction's experts can add a vapor barrier liner to this area.  This crawl space liner is made from ultra-durable polyethylene which resists punctures and tears.   Please note, this is not the cheap crawl space vapor barrier from Home Depot, or the crawl space vapor barrier at Lowes! This is a high-quality liner that is blended with anti-bacterial materials, which offers additional protection against mold and bacteria.  This attractive and affordable liner is durable enough to last for decades, keeping your crawl space dry and clean and safeguarding the important financial investment you have made in your home.

DRAINAGE MATTING
A drainage matting solution is made from a dimpled polyethylene matt that creates raised spaces that prevent water from settling on, or seeping into your home's concrete floor.  Such matting helps prevent water pockets from forming under your vapor barrier by guiding water to a nearby pump.  Drainage matting is an absolute must for concrete crawl spaces!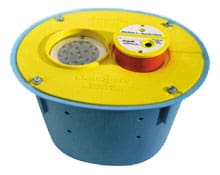 SUMP PUMPS AND DRAINS
Adding pumping systems such as a crawl space sump pump and drains can complete a holistic encapsulation layout.  A sump pump will keep your home's crawl space area dry from flooding, for example, from a plumbing leak. When the presence of water is detected, the sump pump automatically pumps the water out from the crawl space.  Secondary sump pumps can also be installed as a backup solution.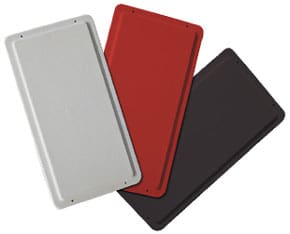 VENT DOORS AND COVERS
For a clean, dry, and energy-efficient crawl space, Weinstein Construction's experts can add a crawl space ventilation fan or foundation vent doors and covers that can keep your home safe from harmful outside elements.  Maintaining good crawl space ventilation is very important, as it circulates fresh air through the crawl space and exhausts musty, moist, and harmful air.  For best results, you open your foundation vents in the summer to allow moisture out, and you shut your foundation vents in the winter to keep out the damp. You can even install a crawl space dehumidifier for even better results!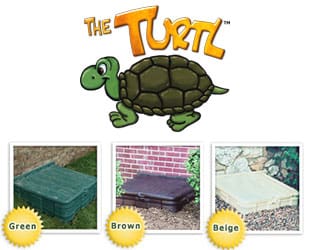 CRAWL SPACE ACCESS SYSTEM
Because moisture and humidity can easily make their way into your crawl space, an access system such as "The Turtl" can be an important solution to safeguard your home. The Turtl is composed of extra tough and durable vinyl which insulates the crawl space from extreme outdoor temperatures.  Made in various attractive colors, The Turtl's modern crawl space door design can complement any home's needs.  Give Weinstein Construction crawl space contractors a call to discuss the benefits of this unique system!
FREQUENTLY ASKED QUESTIONS
How can I tell if I have crawl space under my house?
Weinstein Construction
2021-09-23T18:46:48-07:00
A crawl space is just what the name says. It is typically an unfinished space in your home's basement or under its roof that you cannot stand up in, but need to crawl through. Crawl spaces are used to access wiring or plumbing pipes and other fixtures in your home that are typically difficult to control. It is very likely that you have no desire to go crawl into such a space! If you are adventurous and go looking for, but cannot find, a crawl space below your house, you may not have one. However, if you have a crawl space and never inspected it, or if you are unsure, we will gladly come to your home for a free, no-obligation inspection and give you a definitive answer. Crawl spaces should always be inspected, or you risk damaging your home!
TESTIMONIALS
Weinstein Construction redid my foundation and retaining wall and I'm very happy with the work!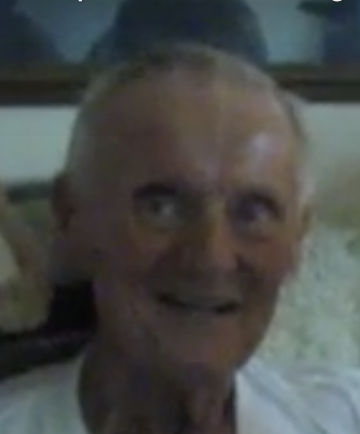 We had our basement retrofitted. Very courteous to us, very attentive. I was very impressed with the people who came to do the job. They were polite, well dressed, and really seemed to know what they were doing. We feel a lot safer now than we would have otherwise.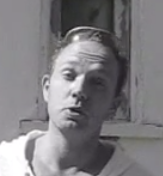 We had used Weinstein to earthquake retrofit our house. First, my intention was to do it myself, but we got a very nice sales rep over and he went through the whole procedure and by putting a thought into I concluded that it was not worth it for me to spend 14 days under the house. They came out, a top professional crew, they did it in a day, and we really loved what they did.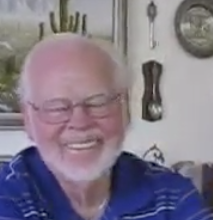 We are pleased with the results. The people were on time, they were neat, clean, and even the "big boss" was very nice and accommodating, so we're happy with the services.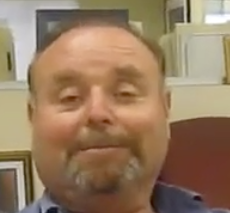 I was very happy. Very clean job. Very satisfied, and I recommend it to everybody.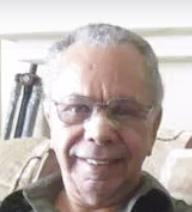 We had our house retrofitted. Immediately we noticed the stability of it, even when we walked the house. Now it's so much better and it's stabilized, we're very confident. It went very well and we're very pleased.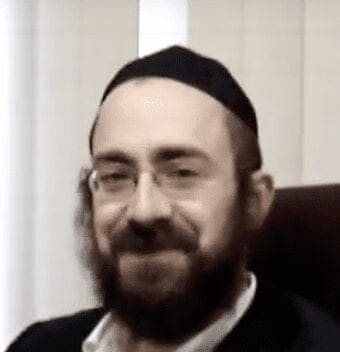 They did a great job, they were on time, clean, and the price was right. I recommend you do the same.
House was built in 1933. They did the right job, they did a very good job and we're very happy with the results. I recommend them.