If you are working on a project that involves a drainage system, you already know the importance of a good design to extract water safely and efficiently. Whether you are treating stormwater or wastewater, successful drainage of water avoids harm to important assets, provides a clean, safe environment for residents, and reduces water retention and associated health and safety issues.
A well-designed linear drainage system solves all of these concerns while still considering installation time, expense and ongoing efficiency as well as flow rate, stability, installation time and lifetime maintenance costs.
With so many variables at play, it is crucial to have a clear understanding of the different types of drainage systems currently available.
Here's a guide to break down the various choices and help you make the right decision to meet your needs.
French Drain

APPEARANCE It is a subsurface structure consisting of a perforated pipe that is mounted flat in a yard with a sloping trench that helps to transfer water runoff from the highest point at the beginning to the lowest point at the end, where it flows into a drain, cistern or swale.
WHAT THEY DO French drains help to channel water from wherever the drain ends–usually close to the base of the building–to some kind of sewer or cistern. In general, French drains are used to facilitate the natural flow of water from high to low.
WHERE YOU FIND THEM French drains are common systems used in residential areas to divert water away from homes and landscaping.
STORM WATER LEACHING SYSTEM
Trench Drains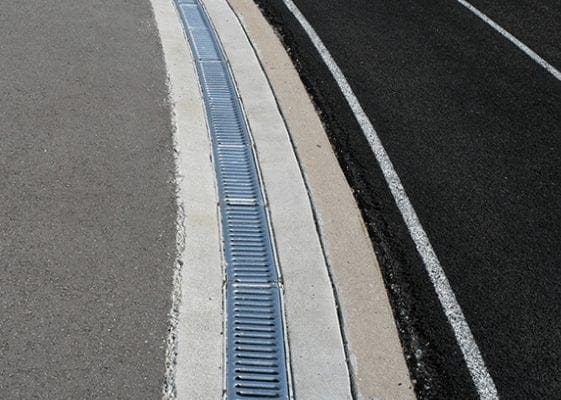 There are many different types of drainage systems that come under the "trench drain" umbrella, from the traditional trench drain to more specific types.
APPEARANCE
In comparison to other systems on the list, trench drains are a surface network. In general, the trench drain consists of a large trench with a drain channel set in place of concrete. This channel can be very narrow or very wide and is usually covered by a heavy metal grate.
WHAT THEY DO
Trench drains work by intercepting the flow of water across vast expanses of soil. We take the water from the surface of the ground and through the canal, where it eventually reaches the final point of drainage.
WHERE YOU FIND THEM
These systems are usually found around commercial buildings, including restaurants and docks. You can also find them on the city streets and even on the pool decks.
HDPE Drains